View and download this publication here.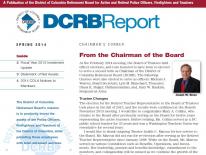 The DCRB Report is a newsletter that is mailed two or three times a year to all Plan participants. The Spring 2014 edition includes the Fiscal Year 2013 Investment Update, Statement of Net Assets, information on 2014 COLA Notices, and much more. All Plan participants should receive the Spring 2014 issue of the DCRB Report by mail, and active and retired participants who have email addresses on file should also receive an electronic version of the newsletter at their District of Columbia or designated email address. View and/or download a PDF of the DCRB Report Newsletter now.
If you would like a paper copy of either of these documents, please contact DCRB by email at dcrb@dc.gov or by telephone at (202) 343-3200.
.