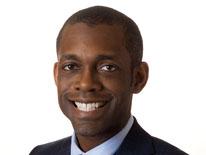 Joseph Clark is a Mayor-appointed Trustee on the District of Columbia Retirement Board. He was elected to his first term as Chair of the Board in 2017. Mr. Clark previously served as a trustee on the District of Columbia Retirement Board (DCRB) from 2008 to 2012. In May 2014, the Mayor re-appointed Mr. Clark to the Board.
Mr. Clark has broad experience in white-collar criminal matters, complex business litigations, and regulatory and enforcement proceedings. Mr. Clark is a former federal prosecutor in the District of Columbia, is an accomplished trial attorney who also advises public, private, and nonprofit entities on a broad range of legal and regulatory issues. As a member of Jones Day's trial practice, Mr. Clark has handled substantial litigation matters involving securities fraud, health care fraud, antitrust, contract disputes, construction litigation, and consumer credit. Mr. Clark is also a member of the Firm's corporate criminal investigations practice, and in this capacity, he has conducted internal investigations and defended companies and individuals in white-collar criminal investigations and civil enforcement actions. Mr. Clark has significant experience in alleged violations of international trafficking in arms regulations, the Arms Export Control Act, export administration regulations, and transportation security regulations. Mr. Clark has defended clients against allegations of bribery, providing an illegal gratuity, insider trading, and illegal kickbacks. Furthermore, he advises clients on issues of corporate compliance and governance. As a part of his commitment to pro bono service, Mr. Clark serves as the Firm's liaison to the Montgomery County, Maryland Public Defenders Office and has defended several individuals against felony charges brought before the Montgomery County Circuit Court.
Prior to joining Jones Day, Mr. Clark was an assistant United States attorney for the District of Columbia from 2001 to 2005. During this time, he served as lead prosecutor in more than 30 criminal trials, conducted federal and local grand jury investigations, and prosecuted cases involving mail and wire fraud, real estate fraud, theft, and violent crime. Mr. Clark has briefed and argued criminal appeals before the District of Columbia Court of Appeals, and during his tenure as an AUSA, he earned a special achievement award and the 2003 U.S. Department of Justice Pride's James R. Douglass Award in recognition of his success in seeking justice for victims of hate crimes.
From 1999 to 2001, Mr. Clark was an associate in the Washington office of Hogan & Hartson, where he represented clients on matters relating to non-compete agreements, the Equal Access to Justice Act, predatory lending, and the Lobbying Disclosure Act. Mr. Clark also assisted farmers in the rural south appeal adverse decisions denying their claims for restitution based on the Department of Agriculture's settlement of the Pigford class action. Mr. Clark also served as a Law Clerk to Judge James R. Spencer, U.S. District Court, Eastern District of Virginia (1997-1998) and Law Clerk to Judge Carl E. Stewart, U.S. Court of Appeals, Fifth Circuit (1998-1999).
Mr. Clark graduated Morehouse College (B.A. magna cum laude 1994) and Harvard University (Executive Editor, Harvard Civil Rights-Civil Liberties Law Review; J.D. 1997).  He is licensed to practice law in Maryland, Virginia, and the District of Columbia. 
His term expired on January 27, 2022, but continues to serve until a successor is named.