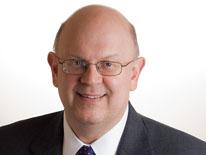 Lyle M. Blanchard is a Council-appointed Trustee and is the Treasurer of the Board. Mr. Blanchard serves as Chair of the Legislative Committee, which serves as a liaison between DCRB and DC government, as well as between DCRB and Congress on all legislative matters involving DCRB. Mr. Blanchard is Vice Chair of the Fiduciary Committee and a member of the Investment Committee.
Mr. Blanchard is an attorney with Greenstein DeLorme and Luchs, PC. His practice area includes land use, zoning, historic preservation, real estate development, assessment tax appeals, municipal affairs, alcoholic beverage control, and legislation. He was the Committee Clerk for Councilmember Jack Evans from 1995 to 2000. During that period, he was Committee Clerk of the Committee on Finance and Revenue (1999-2000), Committee on the Judiciary (1997-1998), and Committee on Public Services and Regional Authorities (1995-1996).
Mr. Blanchard also served as Mr. Evans' representative to the Convention Center Advisory Committee in 1997 and the New York Avenue Development Task Force in 1996. He was the Legislative Assistant to former Councilmember James Nathanson from 1992-1994. During this period, he was Committee Clerk for the Committee on Government Operations (1992) and Legislative Assistant for the Committee on the Judiciary (1993-1994). Mr. Blanchard served as the legislative advisor to the Alcoholic Beverage Control Board, Building Code Advisory Committee, Consumer Claims Arbitration Board, and the Advisory Committee on Consumer Protection (1987-1991).
Mr. Blanchard is a member of the Bar Association of the District of Columbia, its Section on Real Estate, Housing and Land Use, and its Section on District of Columbia Affairs. He is a member of the Maryland State Bar Association and its Section on Real Property, Planning and Zoning. Mr. Blanchard is a member of the American Bar Association and its Sections on Real Property and on State and Local Government. Finally, he is also a member of the George Washington American Inn of Court.
Mr. Blanchard served as an elected member of the Advisory Neighborhood Commission (ANC) 3C, from 1999-2000. He volunteers as a member of the Board of Directors of the Japan-America Society in Washington, DC, and he is a member of the Japan Commerce Association of Washington, DC. From 1998 to 2003, he was a member of the Board of Directors of the National Cherry Blossom Festival.
Mr. Blanchard graduated from Marlboro College in 1984. He received a Master of Arts degree from Antioch School of Law in 1985 and a Juris Doctor degree from the Columbus School of Law of the Catholic University of America in 1998. Mr. Blanchard also studied law at Doshisha University in Kyoto, Japan, as a visiting student in 1997. He earned a Certificate in Advanced Negotiation from Harvard Law School in 1993 and a Certificate of Money Management Fundamentals from the Wharton School in 2003.
His current term expires on January 27, 2025.