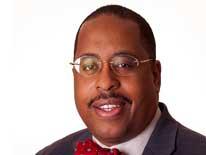 Nathan A. Saunders is the elected Active Teacher Trustee on the DC Retirement Board. He has served on the Investment, Audit, Operations, and Benefits Committees over his three terms.
Mr. Saunders was elected on January 28, 2020.
Mr. Saunders is the immediate past President of the Washington Teachers' Union, AFT Local 6, AFL-CIO. Before his term as President, Saunders served two terms as the elected WTU General Vice President and several other boards and commissions. His notable contributions as Union President include:
Acquiring and developing the union's headquarters.

Creating a Voluntary Employee Benefits Association.

Recreation of the Maternity and Paternity Sick Leave Bank.
Mr. Saunders is the sole derivative plaintiff in Saunders v. Hankerson et al., which contributed to national labor law changes concerning fiduciary duty, union representation, and financial disclosure for all labor unions in the United States. He has delivered remarks before the Rotary Club International, the Yale School of Management, NAACP, NAFEO, the Women's Democratic Club, Harvard University Trade Union Program, and many other community-based organizations.
Mr. Saunders is a certified High School Social Studies Teacher with expertise in history, government, economics, and philosophy. He is the 2018 DC Bar Association - Teacher of the Year. Mr. Saunders has been named to the Who's Who in American Education directory and is a Kappa Delta Pi International Education Honor Society member.
Mr. Saunders holds diplomas and degrees from Morehouse College; Johns Hopkins University, Berman Graduate School of Real Estate; Harvard University School of Law's Harvard Trade Union Program; The National Labor College; University of Baltimore; and The Wharton School (University of Pennsylvania). His areas of expertise include labor relations, public service employment, public schools, and education policy. Mr. Saunders is a native Washingtonian married to Chandrai Jackson-Saunders, a DCPS School Psychologist.
His current term expires on January 27, 2025.