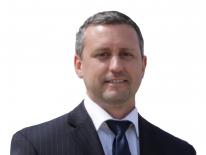 Greggory Pemberton serves on the District of Columbia Retirement Board's Board of Trustees as the elected Active Police Officer. Mr. Pemberton serves as a member of the Investment Committee as well as a member of the Audit Committee.
Mr. Pemberton is a Detective Grade 1 with the Metropolitan Police Department and serves as the Chairman of the DC Police Union.
Mr. Pemberton was elected as the Active Police Officer Trustee in 2018 and began serving on the Board in January 2019. Mr. Pemberton's current term expires on January 27, 2027.