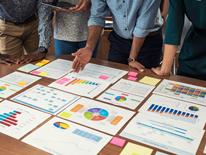 DCRB is pleased to announce that Statements of Estimated Benefits (Statements) were mailed to the home address of active participants of the District of Columbia Teachers' Retirement Plan and the District of Columbia Police Officers and Firefighters' Retirement Plan (the Plans) on June 1, 2022, and should have been received by members during the week of June 12, 2022.
These Statements provide an estimated monthly benefit amount at the members' earliest retirement date, and their vested benefit as of July 1, 2021, based on their average salary on July 1, 2021. Benefits under the Plans are calculated using members' years of service and their highest average salary over a contiguous 36-month period.
To produce benefit calculations for so many participants in a timely and efficient way, we could not provide Statements for members with complex calculations (e.g., those with less than one year of service, rehires with multiple hire and termination dates, those with periods of suspension, etc.). Also due to complexity issues, we did not include purchased service, military service, or service related to unused sick leave for those members who will receive Statements. Participants with such complexities can use the pension calculator on DCRB's website (at dcrb.dc.gov) to estimate their benefit or they can contact their Human Resources Office with any questions they may have.
Please see the PDF links below for FAQs about the Statements of Estimated Benefits.